Many readers of this blog will know that W&S have an ongoing issue with the RSGB concerning the RSGB Convention that we have been banned from attending for many years.  This, despite the fact that we have contributed over £1.5M to the Society in income, made many donations, supported Club of The Year and given our time and equipment free when we fitted out the GB4FUN vehicle.
Early this year, we learnt that the Society had lied to us about the reason why W&S had been blocked from the Convention. It was not, as they had for years claimed, a binding written agreement they could not get out of. The truth was it never existed! But immediately the RSGB found out that their secret had been leaked to us, they signed an agreement that locked W&S out for all time! And so began a new chapter in what many are now naming, the "Secret Society," under the temporary management of Don Beattie.
The watershed that occurred within the Society early in 2011 provided the opportunity for the new management to come clean about this long term issue and resolve it. It did not happen. In fact it got worse. Don Beattie, in company with the current President visited us and told us that W&S could not appear as a retailer nor could they appear as any manufacturer's appointed UK distributor. They reluctantly admitted that they had signed an agreement early in the year, banning us. (Don Beattie refuses to let us see the wording on which he hangs his argument). Draw your own conclusions!
Then out of the blue, a few weeks later, Don Beattie told us we could after all attend. But when we attempted to mention this in a RadCom advert, Don Beattie stepped in and blocked it! He was later to deny that he had said we could attend the Convention which is rather strange when we have the email!
 Subsequent emails  from us to the Society were largely ignored, the current way of dealing with Society position on the matter. Eventually we managed a phone conversation with Don Beattie where he appeared to make a somewhat confused and muddled explanation that we could not attend, even as representatives of the products for which we were the appointed exclusive UK distributors. But if we were for example, American, that would be fine. Bob Heil was not impressed! Other UK companies who were exclusive UK distributors, were however allowed in. But under no circumstances would W&S be allowed to attend. As there is no logic for this action one has to question the Society's motive. Who in the Society has such a motive? Don Beattie also blocked a recent advert when we attempted to explain that we could not be at The Convention after all. So much for The Open Society!
We have, like most, experienced the good times of The Society, when it truly was a Society promoting the hobby and representing the majority. Since then membership numbers have declined and many of the hard working loyal staff and volunteers have drifted away for various reasons. So why can't we get back to an open and honest Society?
Several former presidents and officers have openly registered their dismay at what they are now seeing happen to The Society. Perhaps it underlines the fact that job qualifications such as previous experience in large multi national  companies, don't necessarily translate into the ability run The Society! Operating at grass roots level is a different ball game. The task requires a diversity of social and organisational skills and the ability to motivate and work with volunteers.
In the meantime we can only hope that the heavy veil of secrecy over certain recent actions within The Society, will be lifted and The Society will once again become a truly representative organisation that members can trust and rely upon.   One that works for the  hobby and embraces transparency. Sadly 2011 was not The Year!
One thing that The Society needs to understand is that Waters and Stanton will continually campaign for The Society to tell the truth as to why we have been banned from attending The Convention/ Who in The Society was responsible. What does the agreement actually say and who composed it? On paper it is a simple question, but one that the current management cannot, for whatever reason, bring themselves to talk about. That for everybody has to be a worrying situation.
Yvonne Drage MAAT We would like to offer our congratulations to our Accounts Manager Yvonne who today found out that passed her AAT Accounting Technician Qualification exams. Well Done Yvonne!
Bob Heil with W&S at National Hamfest!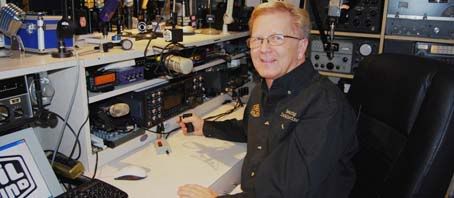 Come and meet Bob Heil, K9EID, founder of HeilSound at the National Hamfest at Newark with Waters & Stanton! Hear his microphones in action and listen to his mini lectures, LIVE on our stand. This is a W&S exclusive, Bob makes one of his rare visits to the UK bringing his demo gear with him. You will also get a personal signed commemorative QSL card and the opportunity to take advantage of special deals on the day.
Taiwanese Visitor Today we had a visitor all the way from Taiwan. Eshuie is on holiday, staying in London and made a special trip to Hockley to visit us. While here she bought an Airnav RadarBox-3D, she is pictured below with Peter Hall (left) and Roy Britt (right).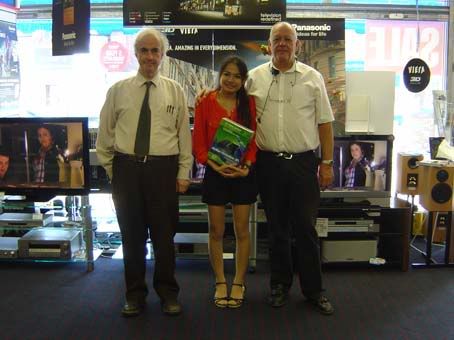 We have today formally asked the RSGB that we be allowed to attend and sell at the RSGB convention. In previous years we have been blocked from attending this event by the RSGB. This we have felt is not in the spirit of fair trading and does not give the customer a choice of who to purchase from, nor does it encourage competitive prices. With the removal of Peter Kirby, the General Manager, following a financial investigation, we are hoping that the RSGB will now put their house in order and not operate a cartel, which cannot be in the best interest of members.
Peter Waters
Waters & Stanton PLC