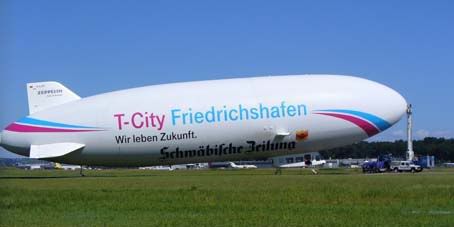 Zeppelin flights at airport next to the Showground.
June 24th-26th 2011 saw W&S attend the 35th Annual Friedrichshafen Ham Radio Exhibition in Germany. Jeff Stanton, Mark Francis & Steve Hoy drove all the way with a van full of products and were kept busy on our stand all weekend, as you can see below.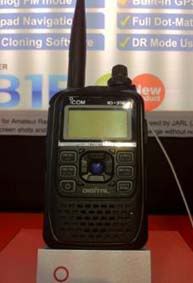 At the show Icom previewed their new UHF D-Star Digital transceiver, the ID-31E. This smart looking handheld shows the importance that Icom place on D-Star. It's only a mock up at this stage but will feature: 
• Built in GPS Receiver
• D-Star DV/Analogue FM Mode
• DR Mode User-Friendliness
and Improved…
• Directional Keypad Navigation
• Full Dot Matrix Display
• Slim Compact Design
• IPX7 Waterproof Construction
• Free Download Cloning Software
• Micro SD Slot
…..
…..
…..
Every year we see many friends of W&S whilst in Germany and it's always a good opportunity to catch up. This year we had a dinner with AOR, bhi and Kent Morse Keys, as you can see in the picture below. Pictured from left to right are: Jeff Stanton,  Peter, Andrea & Bob Kent (Kent Morse Keys), Toshi Totsuka (Vice-President of AOR Japan), Graham Somerville (bhi), Steve Hoy and Mark Francis.