New Addition: Murray and Clive from Chelmsford Club Training & Essex Repeater Group will be attending.
They'll be enrolling and answering any questions about the Licence Training Courses & The Essex Repeaters.
You can find the Chelmsford Amateur Radio Society website here: http://www.g0mwt.org.uk/#NextMeeting
Below is the flyer for our Grand Christmas Open Day…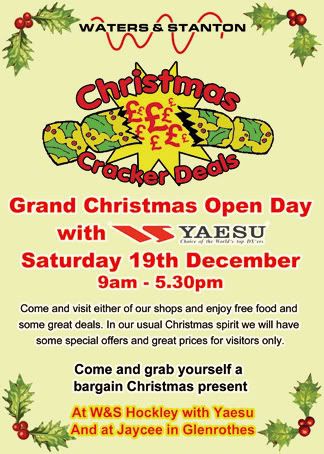 We are pleased to announce that Waters & Stanton are now on Twitter, and we will be using our Twitter page to keep you up to date with the latestnews on events & rallies, W&S news, new products, special offers and to bring you anything that amuses us.
If you are unfamiliar with Twitter, it is a great way to communicate by posting short messages of 140 characters or less and there are alot of radio hams already using it, so why not give it a go and follow W&S!
Here is the link to our twitter page: http://twitter.com/wsplc