The 3rd annual Rochford District Sports Awards are on their way and once again Waters & Stanton will be sponsoring the award for 'Disability Sports Personality Of The Year'.
This year's event will be held on Monday 11th October at the Freighthouse in Rochford, hosted by Ben Fryer of BBC Essex and with Guest of Honor, Paralympic Gold medallist, Danny Crates in attendance.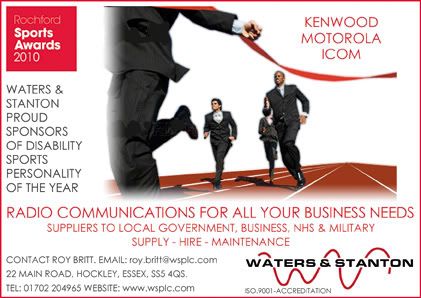 Two of our younger members of staff are undertaking a 6 week course at CARS – Chelmsford Amateur Radio Society. James Payne from our Service Department and Dave Smith on our shop floor are studying for their Amateur Radio Foundation Licences. Meaning that when they have finished we'll have even more Ham knowledge here at Waters & Stanton, all the better for you our customers!
James Payne & Dave Smith
W&S have recently taken on two new employees under the Government's Apprenticeship Scheme.
In the Shop we have Matt Francis who has joined as a Sales Assistant and in our Accounts department we have Sarah Little who as joined as Admin Assistant.
We're sure you'll join us in welcoming them to the W&S family and wish them all the best in their new employment.